maryc32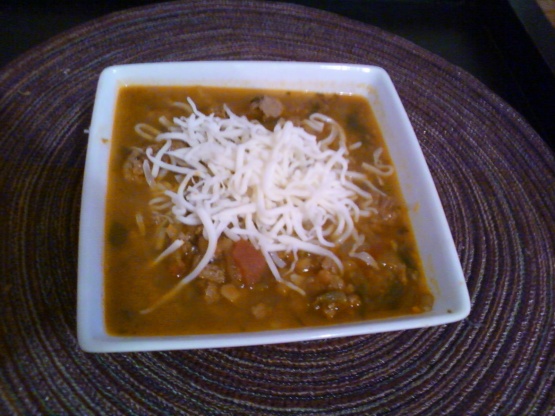 Here's something to warm 'em up after a shift in the deer stand waiting for the big buck OR those charming Christmas carolers on a frosty night OR for a tail-gating menu before a big football game on an autumn afternoon.

A+! Everybody loved it! Very easy to make! A lovely 1 pot meal. I was crunched on time so I added the lentils with everything else & cooked it for 45 minutes - it worked wonderfully! Very nice texture, flavor & consistency. And it's gone. Oh my - please check the servings because the 4 of us ate the whole thing. Only dh & dd had 2nds. I used ground beef. Made for ZWT 4. :)
Saute meats, rinse & drain for "lowfat" serving.
Add veggies & cook until onion is transparent. Add 8 cups water *or use equivalent amount of chix broth* and everything else EXCEPT lentils, butter and cheese.
Continue cooking covered, simmer for at least one hour on stove-top OR transfer to crockpot on LOW for several hours. Stir occasionally.
Lentils go in 45 minutes to 1 hour before serving time. Add a bit of water if the soup becomes too thick.
Add the butter if you're not doing the "lowfat" version and you like the richness of those yellow bubbles!
Serve with grated sharp Cheddar cheese sprinkled over the top.
NOTE: Leftovers are SUPERIOR to the first-run version.
SUBSTITUTE: Try orzo pasta instead of the lentils.
***Chicken broth may be substituted here.