Calee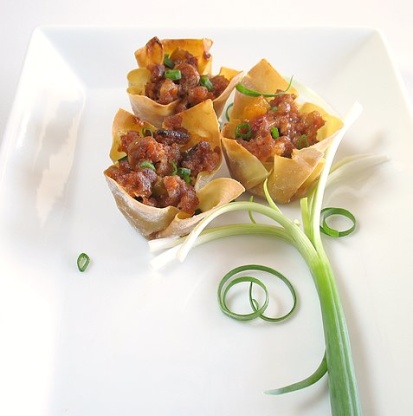 Pretty little appetizers that can be adapted with other fillings. Best served warm from the oven.

We make these quite often for catering events and they always go quickly. We use Pepperidge farm puff pastry cut to fit the mini tins which give the crust a flakier consistancy. We make some with sour cream and some without for those who don't like it. Good recipe! Thanks for sharing.
Preheat oven to 350 degrees F (175 degrees C).
Lightly grease a miniature muffin pan.
Place ground Italian sausage in a large, deep skillet.
Cook over medium high heat until evenly brown.
Drain and remove from heat.
Stir Monterey Jack cheese and Colby cheese into the warm sausage to melt.
Stir in salsa.
Gently press wonton wrappers into the prepared miniature muffin pan so that the edges are extending.
Bake for 2-3 minutes, just to lightly crisp.
Place a heaping tablespoon of the sausage mixture into each wonton wrapper.
Bake 10 minutes in the preheated oven, or until wonton edges begin to brown.
Transfer baked filled wontons to a serving platter.
Dollop each with approximately 1 tablespoon sour cream.
Sprinkle with green onions.