diner524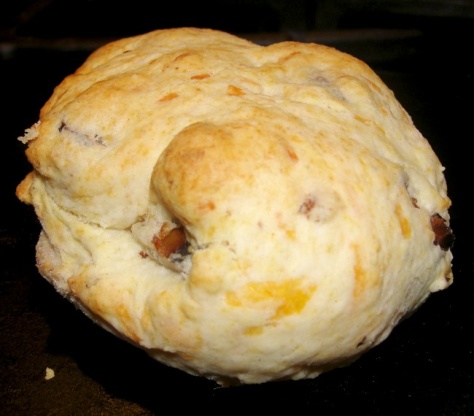 Bet you can't eat just one!!!!!!!!!! So good! Found the recipe on King Arthur Flour site.

Very good! The whole family enjoyed these. Crispy on the outside, tender on the inside, buttery treats. Leftovers would be great for the kids' breakfast. Saw these on the King Arthur site; they suggest serving with eggs, grits, and fresh fruit. I used buttermilk, and twelve Jimmy Dean turkey sausages was just right. Thanks for sharing the recipe!
Preheat the oven to 425°F.
In a medium-sized mixing bowl, combine the flour, baking powder, baking soda, salt, and.
Add the butter and work into flour until the mixture is crumbly.
Add the sausage and cheese, and mix to distribute.
Stir in the yogurt, buttermilk, or sour cream.
Mix just till everything is evenly moistened.
Transfer the dough to a piece of parchment or a lightly floured work surface.
Pat or roll it into an 8" x 10" rectangle about 3/4" thick.
Cut the dough into twenty 2" squares.
If you've been working on parchment, simply lift the parchment onto a baking sheet. Separate the biscuits so there's about 1" between them.
If the biscuits aren't on parchment, space them on a lightly greased baking sheet, leaving about 1" between them.
Bake the biscuits for 20 to 25 minutes, or until they're a medium- to deep-golden brown.
Remove from the oven, and cool on a rack briefly. Serve warm.
Note: Great candidate for freezing. Make biscuits, shape, and place on a pan. Freeze, then transfer to a plastic ziplock bag to store. When you're ready to bake, remove them from the freezer, thaw and bake as directed above.