Sausage-Cheese Balls (Lower Carb)
Prep 15 mins
Cook 20 mins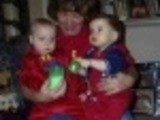 My sister has made these for many years. We use them for snacks on New Year's Eve and take them to work for snacks, esp. at holiday time. They have less bisquick mix than most of the sausage-cheese roll recipes, so are more moist. Also, that gives them less carbs!
Directions
Mix the three ingredients together with a spoon and your hands as needed.
Form into 1" size balls and place on a cookie sheet.
Bake at 350 degrees for 20-25 minutes.
Reviews
Most Helpful
Yes! Ir works! Thanks for posting, Trisha! I also used Cabot's Seriously Sharp cheese and that made a big difference in the taste - cheesier - YUM!