Sausage-Cauliflower Spaghetti
HisPixie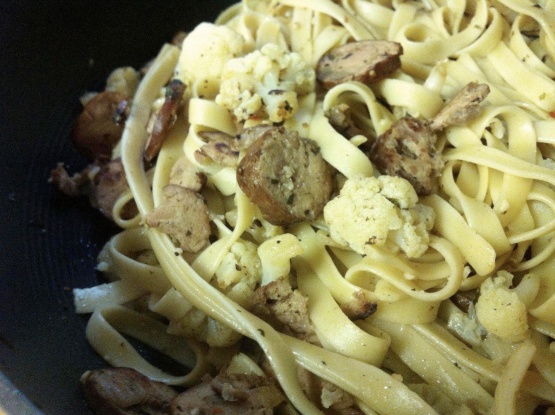 This is from Food Network Magazine October 2010.

I had clipped this recipe back in October, but haven't tried it until now (Feb). I made a few changes- first, I cut it down to a single serving. Next, I cut the pasta back by an ounce, and increased the meat by an ounce. Next, I added a pinch of pepper flakes to the sausage and garlic mixture, and topped the whole dish with some chopped fresh basil. Lastly, I used regular pork Italian sausage instead of Turkey. Wonderful dish, and very easy to pull together quickly. I loved that it had the cauliflower in it, making it truly a one-dish meal. Thanks for posting!
Bring a large pot of salted water to a boil. Add the spaghetti and cook as the label directs. Reserve 2 cups cooking water, then drain.
Meanwhile, heat the olive oil in a large skillet over medium-high heat. Crumble the sausage into the skillet and cook, breaking it up with a wooden spoon, until lightly browned and no longer pink, 4 to 5 minutes. Clear a space in the pan, add the garlic and cook until just golden, 2 to 3 minutes. Add the cauliflower and cook until the edges are browned, about 2 minutes. Add 1 cup of the reserved cooking water, cover and reduce the heat to medium. Cook until the cauliflower is tender, about 8 more minutes. Uncover and boil over high heat until the liquid is almost evaporated, about 2 more minutes.
Add the spaghetti to the skillet along with the scallions. Drizzle with olive oil and season with salt. Toss for a minute or two to wilt the scallions and coat the pasta with the sauce, adding up to 1 cup cooking water, if needed, to loosen. Remove from the heat, sprinkle with the cheese and toss. Divide among shallow bowls and drizzle with more olive oil, if desired.