Parsley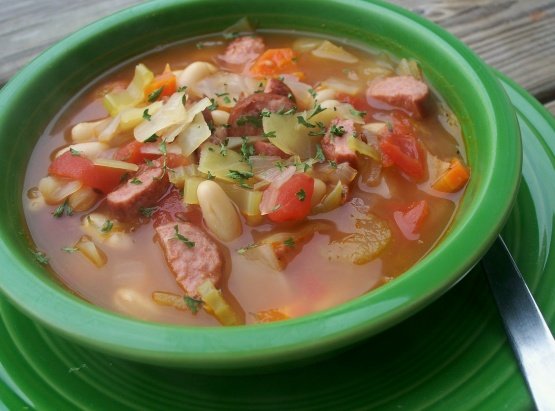 From Taste of Home. A warm and flavorful soup. I usually serve it with Honey-Wheat cornbread for a tasty and easy meal on cool evenings.

This is a warm and fragrant soup which isn't overly heavy. The delicious smell lingered in my house for a couple of days. making me hungry for yet another bowl . I used authentic chorizo (mild flavor) which I precooked, discarding most of the fat before adding to the soup. Also, I added kale for color. Thank you Diva for posting - I'm looking forward to checking out more of your recipes.
In a 3-qt. saucepan, saute onion in oil and butter until tender.
Add carrots and celery; saute for 3 minutes. Add caraway; cook and stir 1 minute longer. Add water, cabbage, sausage, tomatoes and brown sugar; bring to a boil.
Reduce heat; cover and simmer for 15-20 minutes or until vegetables are tender.
Add beans, vinegar, salt and pepper.
Simmer, uncovered, for 5-10 minutes or until heated through.
Sprinkle with parsley.
Yield: 6 servings.