Sausage & Cabbage Casserole
Mandy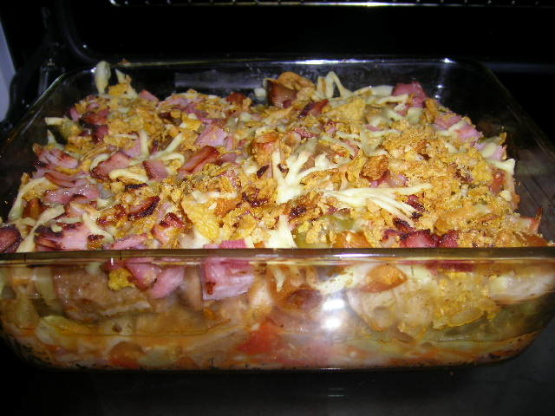 This recipe was in an old Kelloggs cookbook I picked up from a thrift shop. I thought it quite strange as it called for sultana bran in the main casserole. Admittedly I left out the sultana bran when I made this but instead added some cooked pasta to make a great one dish meal full of veggies.

Very tasty recipe. I caution those watching fat/sodium/sugar intake though. Even though the bran helps with the fibre, it is very high in the the others also. It could be made more healthly by using chicken/turkey sausages, sub olive oil for butter & salt-reduced chicken broth for water/cubes. Topping can be sub'd also. I found it very salty so I will also cut the salt out on the next try. Nice variation to normal cabbage recipes, thanks for sharing.
Heat oil & brown sausages, remove from pan & slice thickly & place in a casserole dish.
Melt butter & saute onion & garlic until tender, add tomato paste, cabbage, tomatoes & zucchini and cook for a few minutes.
Blend all remaining ingredients, bring to the boil & pour over sausages.
Bake covered in a moderate (180.C) oven for approx 1 hour.
Combine topping ingredients & sprinkle over casserole.
Bake for a further 5-10 mins uncovered.