PaulaG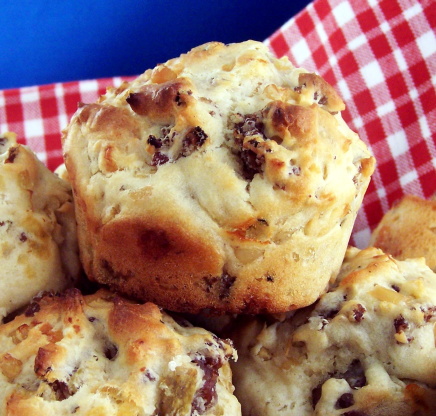 These were found in a bonus book from Taste of Home's Simple & Delicious and thought they sounded very good. The recipe is credited to Beverly Borges of Rockland, MA. The recipe I adapted gave the yield at 24. There were some adjustments made to the original recipe; i.e., the addition of cheese and onions. I baked these in silicone muffin pans and the yield was 18.

9/16/09 - One more review :) These freeze very well for those who like OAMC! 3/7/08 - Another WOW! I had to add to my 1st review. Last night I made another 4 dozen for the continued bake sale and put 5 tablespoons of jalapeno in half the batch. It was great! We like it a little spicy in Texas! In addition to the 2 cups of cheddar (for a double batch), I used a cup of the Mexican blend cheese, they were a little cheesier :) Thanks again Paula! Awesome muffins! 3/6/08 - WOW!! These were INCREDIBLE! I doubled the recipe to get 4 dozen, was making them for a charity bake sale. I ended up eating 2 that night for my dinner! All 4 doz were gone in 1 1/2 hours! We are doing the bake sale again tomorrow, so I'll make another 4 dozen, going to put diced jalapeno in half. I omitted the onion for less work and I increased the cheese to 2 cups for the double mix. May try even more cheese, you can never have too much cheese! I used the finely shredded to mix better. I have had 5 people ask for the recipe! Thanks!!
Preheat oven to 425 degrees and spray 24 muffin cups with non-stick cooking spray.
Over medium heat, brown the sausage in a skillet; drain and set aside.
In a large bowl, combine the biscuit mix, milk, water, chilies and egg; mix well.
Stir in the corn and drained sausage; gently mix in grated cheese.
Fill the prepared muffin tins 2/3 full and bake in preheated oven for 15 to 18 minutes.
Cool 5 minutes; remove from pan and place of a wire rack to cool.
Serve warm or allow to cool completely, place in a zip-lock bag and freeze.
To reheat: Defrost overnight in refrigerator, wrap in foil and place in cold oven; set temperature for 350 and allow oven to come to temperature, warm for 8 to 10 minutes or until heated through.