Bergy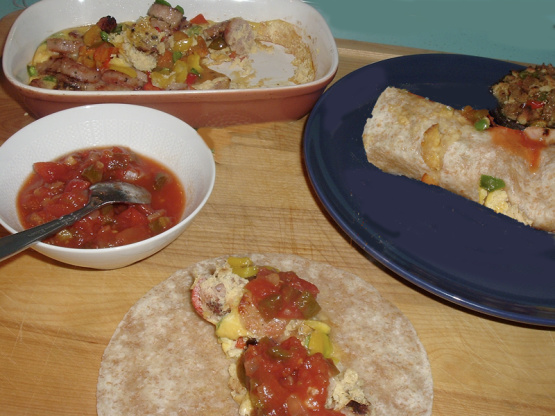 These breakfast wraps take a little time but since you can freeze them, and they are so tasty, they are worth the extra effort for breakfast. This comes from the Aug/Sept issue of Light & Tasty.

Loved it. I used a weight watchers whole wheat wrap and added a little cumin. Excellent!
In a skillet cook sausage over medium heat until no longer pink; drain.
Transfer to a 13x9-inch baking dish coated with nonstick cooking spray.
Sprinkle with red pepper and onion.
Combine the egg substitute, green chilies, chili powder and salt; pour over sausage mixture.
Bake, uncovered, at 350 for 30-35 minutes or until set.
Break up the sausage mixture with a spoon.
Place 2/3 cup down the center of each tortilla; top with salsa.
Fold one end over sausage mixture, then fold two sides over.
*Note:I also like to fry up some hash browns or tater tots to have some potatoes to go into the tortilla.