Sausage Breakfast Muffins (OAMC)
Pam-I-Am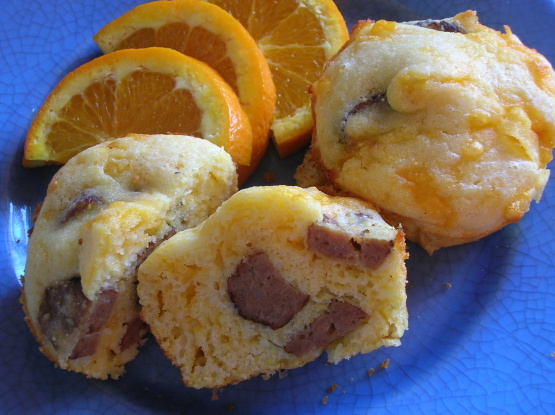 This is a recipe I found online and adapted to suit my family's taste. You can use either Chorizo or regular bulk breakfast sausage, depending on your tastes. They're both good. If you like spicy foods, add a 4 oz can of chopped and drain green chilies.

These were pretty good! We thought they were lacking a bit in flavor, tasting quite a bit like Bisquick. My husband summed it up perfectly when he said it tasted as if you got a biscuit from McD's and put some sausage on it (which is not a bad thing, by the way). After I made and tasted the first batch I added a 7 oz. can of green chiles and some more cheese, which I liked better. My 2 yr. old likes them too, which of course is the ultimate taste test! They also reheat nicely at 90 seconds. I reheated one just a few minutes ago and added some green Tabasco to it, and that was the final touch it needed to become super yummy. I'll definitely make these again and keep them on hand for a quick breakfast. Next time I'm going to try adding some veggies to them to make them a bit healthier. All in all, a great recipe. Thanks! -UPDATE- I just had to come back and give this recipe another star. I just reheated one from the chile/extra cheese batch and put some hot sauce on it...oh my goodness, out of this world. I think the extra ingredients made them a little more moist after being heated than the others...I don't know if that's the reason, but wow. Not to mention I've had them for bkfst the past three mornings and have really been enjoying them. I think that says a lot about a recipe. Also, because of this recipe, I've actually been eating bkfst PERIOD, which has been a challenge since my 2nd daughter was born six weeks ago. So thanks...more than worth five stars!
Line muffin tins with paper liners, and set aside.
Fry, crumble and drain sausage.
Preheat oven to 375 degrees.
Mix together bisquick, cornmeal, eggs, and milk.
Add drained sausage, and cheese, and stir well.
Ladle the filling into the prepared muffin tins, filling almost to top.
Bake for 11-15 minutes.
Allow to cool completely.
Store in freezer in a large airtight container.
Or place each in a sandwich bag, and then place a dozen in a large ziploc bag.
Microwave on high for approx 90 seconds.