Sausage, Beans, and Greens
Derf2440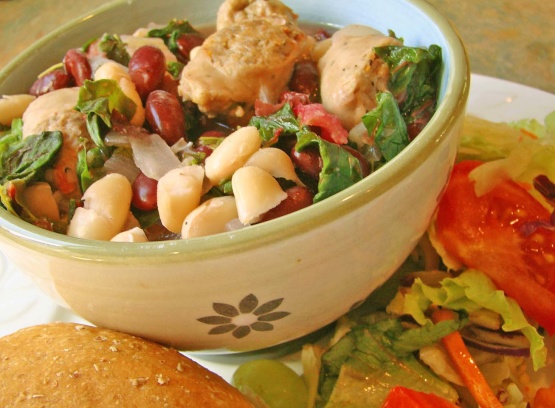 Delicious!! we had a craving for some kinda beans, I chose this one cus I happened to have some Swiss chard in the fridge, used it instead of the spinach. i used one can of white and one can of red kidney beans, also used turkey sausage and added quite a bit of pepper to liven it up. My thyme has come up in the garden so I was able to use fresh. We loved it and will keep this one in my hard copy!! thanks for posting.
In a large pot, cook sausage and onion over medium heat for 5 minutes or until onion is tender; drain.
Add in beans, chicken broth, wine, and thyme.
Bring to a boil; lower heat, cover, and simmer for 5 minutes.
Stir in escarole; heat through.
Season to taste with salt and pepper, if desired.
Ladle into individual bowls; sprinkle w/ Parmesan cheese.