Sausage Balls Recipe Courtesy Paula Deen
Debber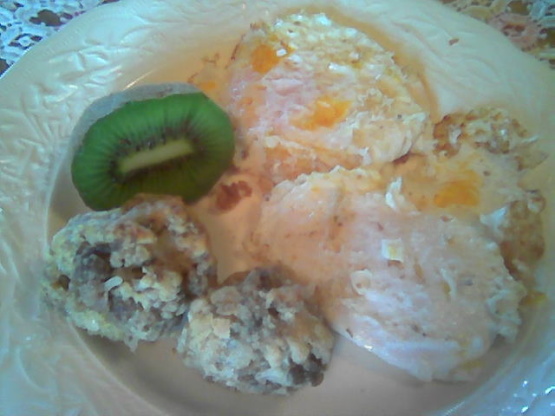 I don't want to rate these with stars as I changed the recipe. (I don't think it's fair to change a recipe and then lower the rating). My sausage balls turned out quite dry and I'm pretty sure it's because I used the Jimmy Dean low-fat sausage. I just wanted to post in case someone wants to do it low fat - don't. It will end up dry and not so good. Looks like others had a great outcome and that's how the recipe should be!
Preheat the oven to 375 degrees F.
Spray a baking sheet with vegetable oil cooking spray.
Combine all ingredients in a large glass bowl.
Mix well with your fingers. The mixture will be very crumbly.
Form into 1 inch balls, squeezing the mixture so it holds together, then rolling it between the palms of your hands to form balls.
Place the balls on the baking sheet.
Bake for 18 to 20 minutes or until golden brown.
To prevent sticking, move the balls with a spatula halfway through cooking.
To make the dip, combine the mayonnaise and mustard.
Serve with sausage balls.