Sausage/Apple Baked Pancake
Lelandra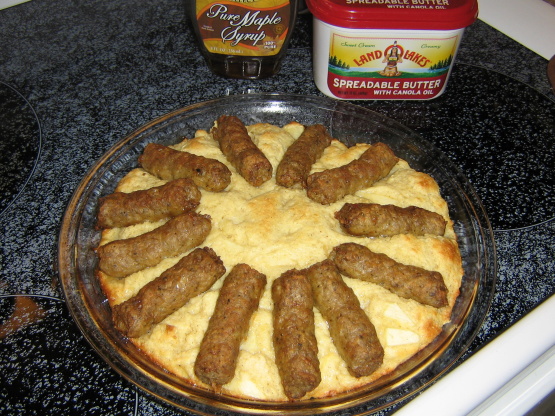 A very easy recipe for the mornings you'd really rather starve to death than cook. from the "Hormel" people.

I like this recipe, but used Krusteaz Buttermilk and their 2 cup mixture; and used a 11x17" glass casserole dish. Basically combined two similar recipes and it worked great! Definitely like the Pam and melted butter trick. Pieces come out clean. This will be my go-to recipe.
Preheat over to 400 degs.
Brown & drain sausage on paper towels.
In a large bowl combine baking mix, milk,egg,sugar,melted butter,cinnamon & nutmeg until blended. Stir in the apple.
Spread in greased 9" pie plate.
Arrange sausage in spoke fashion on top. (don't poke them in or they'll disapper on you while baking.
Bake 15-20 minutes or till golden.
Serve with butter & syrup.