Sausage and Spinach Pastry Puffs
Ms B.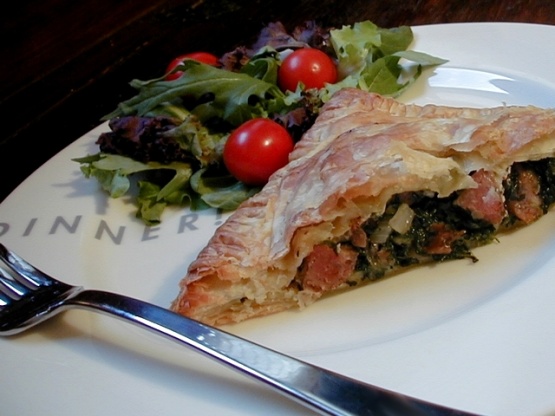 This dish has always been my favorite. It is so easy to make and tastes so good. I've always used chicken apple sausages with Chardonnay which I bought from Trader Joes.

Top Review by Ms B.
Wonderful blend of flavors! This is an impressive dish to serve with a simple salad, but takes no time or major effort to prepare. I used Emeril's Chicken and Apple smoked sausages and loved their slightly sweet and smokey flavor with the onions, spinach and cheese. This looks like you slaved in the kitchen, but was amazingly easy. Would be a great dish for company. Thanks for posting.
Preheat oven to 400F.
Heat oil in a skillet.
Brown sausages, about 3 minuted under medium heat.
Discard excess fat from the sausages from the pan.
Add onion to the pan, cook about 3 minutes.
Add salt and pepper to taste.
Let it cool for at least 10 minutes.
Squeeze out excess liquid from the chopped spinach by using a kitchen/paper towel.
Place spinach, lemon zest and grated Parmiagiano Reggiano in a bowl.
Add cooled sausage mixture into the spinach mixture, incorporate well. Filling is now ready.
Cut each puff pastry sheets into 2 rectangles.
Brush the top layer with mustard.
Fill pastry sheets with filling.
Crimp the edges using a fork.
Cut 2 slits on top of each pastry.
Bake for 15-25 minutes until golden brown.