Sausage and Red Bean Stew
GaylaJ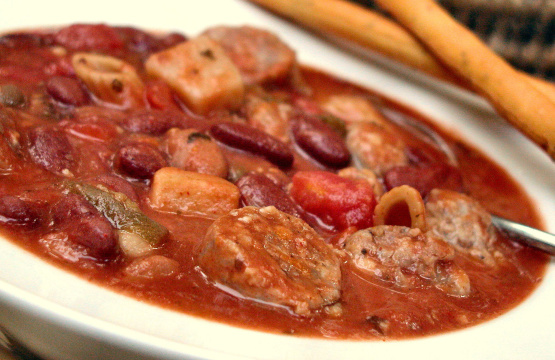 Hearty, delicious and quick. Yes, this does use several canned products and also gets a head start with prepared soup. But there are times, at least in my home, when speed and convenience must take precedence. This recipe originated from Honeysuckle White so, of course, it calls for Italian turkey sausage. I have made it with turkey sausage and with regular Italian sausage--it is good either way. Also, feel free to substitute beans according to preference or what is on hand. I often use cannellini beans rather than red kidney beans.
Top Review by Jim H.
Made this the other night for she-who-must-be-obeyed. Used petite diced tomatoes cause I don't like the texture! Decided the next time I made it I would use bulk Italian sausage and add some more noodles (request of the Queen). Made it tonight with the bulk sausage and added some ziti that I cooked al dente and added later. Making it tonight for tomorrow so all the flavors can meld.
Cut sausages into 1-inch slices and place in a 6-quart stockpot. Cook over medium-high heat for 5-10 minutes, or until brown. Season with cayenne pepper to taste.
Reduce heat to low, add onions and saute' 5 more minutes or until sausage is cooked through.
Drain well, add remaining ingredients and stir.
Simmer for 10-15 minutes.