Sausage and Potato Stew With Saffron
chia2160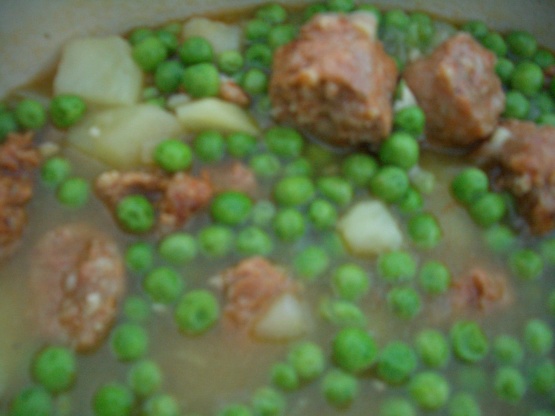 This makes a hearty meal. I like to use a garlicky sausage, but the choice is up to you. Saffron is expensive, but don't be tempted to leave it out of the dish because it is integral to the flavor of this stew! Make sure to have lots of crusty bread to serve on the side.

i just finished my second helping of this wonderful comfort food. who would think that a dish with so few ingredients would taste so good? i used 1 lb of spicy italian sausage, 3 large baking potatoes and 3 c chicken stock and a few pinches of saffron, which gives everything a great flavor. i added sweet frozen peas and covered the pot and removed from heat. i started eating this with a fork, but switched to a spoon so i wouldn't miss a drop. a delicious keeper
6

ounces spicy sausage, casings removed

2

teaspoons olive oil

1

cup onion, chopped

1

garlic clove, finely minced

2

cups potatoes, peeled and diced

2

cups chicken stock
1⁄4 teaspoon saffron thread
1⁄2 cup frozen peas, thawed
salt and pepper, to taste
Crumble sausage and fry over medium heat in a large saucepan or small stock pot until no longer pink; remove with a slotted spoon to paper towel to drain.
Add olive oil to the pan and saute the onion for 2-3 minutes, until it begins to soften.
Add the garlic and cook for 1 minute more.
Add the potato cubes and cook, stirring, for about 4 minutes and they begin to color a bit.
Add stock and saffron; bring to a boil.
Reduce heat and simmer until the potatoes are tender, about 10-15 minutes.
Return sausage to stew and add the peas as well; season with salt and pepper if desired.
Simmer just until the peas are warmed through, then serve immediately.