Bobtail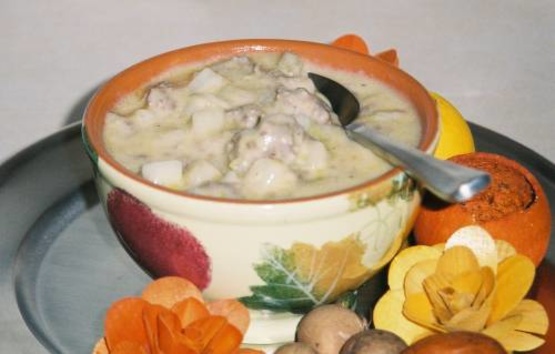 This recipe was given to me by a coworker and she said it was quite possibly the best soup she had ever eaten. I made the soup today and indeed it is very tasty! With cold weather approaching (someday), this will be quite the comfort food. I did halve the recipe since there is only two of us, because a whole recipe makes a large pot of soup. It is quite easy to make! I may use more hot sausage next time. A whole recipe makes about 16 cups of soup.

Top Review by NC Gal
Tasty and easy to make. It's a very rich and thick soup. DH thought it was sausage gravy when he first saw it. (we like thick soup!) made as directed, but I did add some celery seed (a must have in potato soup) Looking forward to left overs tomorrow night!
Fry sausage and onion together, do not drain.
Put the sausage and onion in a large sauce pan.
Add all of the other ingredients and simmer for 15-20 minutes, until potatoes are tender as you would like.
Add 1 tablespoons of black pepper and simmer for 5 more minutes.
Thin with milk.