Sausage and Peppers Sandwiches
PaulaG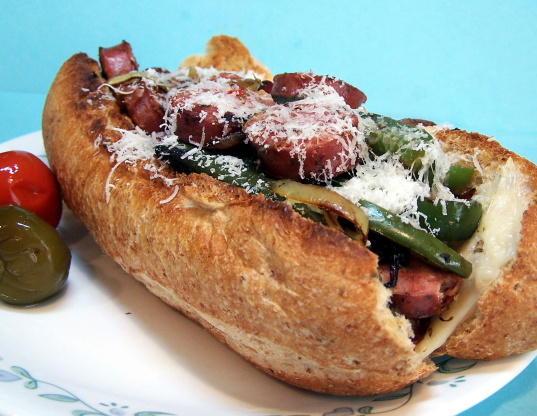 I came across this recipe while looking for supper hearty sandwich ideas. Recipe source: Bon Appetit (November 1983)
Top Review by PaulaG
This recipe makes a wonderful and hearty sandwich. The directions were perfect and it scales nicely to serve 2. After cutting the rolls, I placed the cheese in the bottom and broiled them for a few minutes. This provided a nice drip resistant barrier for the sausage and peppers. After filling, I topped them off with some freshly grated parmesan. Definitely a keeper!
1 1⁄2 lbs sweet Italian sausage, cut into 1/2 inch slices (or use both sweet and hot sausages)
1⁄2 cup water

2

large green bell peppers, seeded and cut into 1-inch pieces (or use 1 red and 1 green)

2

onions, cut into 1-inch pieces

2

teaspoons dried oregano

6

crusty French rolls, halved horizonally
1⁄2 lb sliced provolone cheese
Cook sausage in a large skillet over medium heat until brown (10 minutes). Reduce heat to low and add water, cover and simmer for 10 minutes.
Add peppers, onions and oregano to skillet and saute until tender (10 minutes). Pour off liquid.
Spoon sausage mixture into rolls, topping off with a few slices of cheese.
If desired, can be heated under broiler so cheese melts.