Mama Amy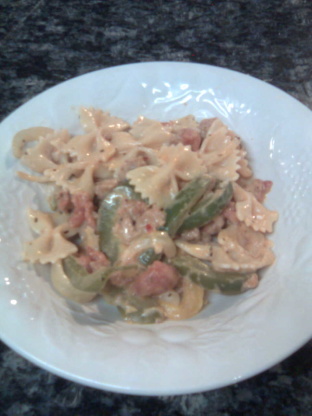 Delicious pasta dish with sausage and peppers and bowtie pasta. I recieved this recipe from my best friend and it's become a family favorite!
Cook pasta according to package directions.
Cook sausage in a large pan just until it loses it's pink color.
Add garlic and onion and cook 2 to 3 minutes.
Add peppers, cook 2 minutes more.
Add tomatoes and seasonings, cook about 15 minutes until the peppers are tender.
Take pan off heat, cook 5 minutes.
Add softened cream cheese and stir until melted.
Add sauce to cooked pasta, toss to coat.
Top with grated Romano cheese.