" Sausage" and Gravy (Low Fat)
Annacia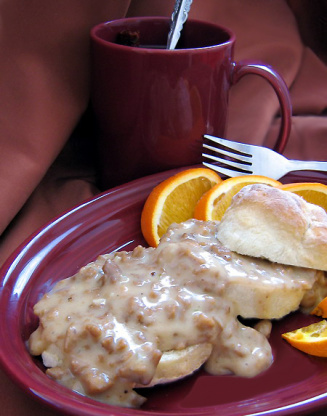 I was inspired by Charmie777's "Good Morning Breakfast Sausage". I used it as a base and added some things to suit my tastes and came up with this. Note: Prep time includes melding time in the fridge.

I'm not staring this recipe because I used it as a base idea and then turned it into healthy biscuits and gravy. I made the gravy using the milks, onion flakes, garlic powder, marjoram, flour, salt and pepper. When the gravy was almost ready I added Yves Ground Round (veggie meat). I did need to add a tsp of cornstarch to get it to my desired thickness. This made a delicious brekkie that was easy and quick to make. It was wonderful to have "back home" food without all the fat and calories.
Mix ground turkey and spices together and let sit in fridge overnight for flavors to meld.
Brown meat mixture in a large fry pan. Once brown, sprinkle with flour. Stir in milk and evaporated milk.
Bring to a boil, stirring constantly and simmer till desired thickness.
Serve with your favorite reduced fat biscuits, toast, rice or noodles.