Sausage and Cheese Scones for Your Freezer
PaulaG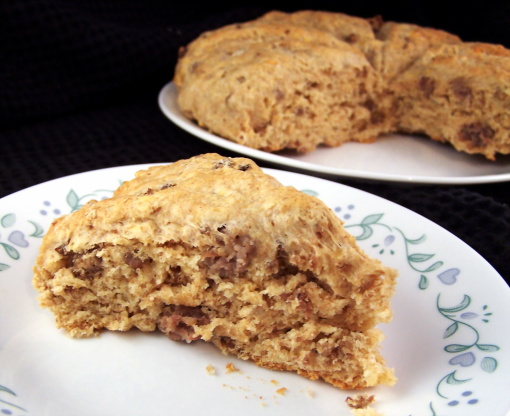 Recipe by Tish
My husband loves this for breakfast in the morning, heated up in the microwave from the freezer. They are wonderful right out of the oven too!
These scones were wonderful! Made a half recipe last night for breakfast this morning. Kept 2 out and put the rest in the freezer. Very tasty, soft scones. I wasn't too sure, b/c the dough was not really kneadable--was very, very sticky and most ended up on my hands! But I didn't add more flour and they turned out well! Thanks for posting! Will likely make again!
Preheat oven to 400°F.
Combine flour, baking powder, sugar, salt and pepper in a large mixing bowl. Cut butter into the bowl, mixing it up until it looks a little like meal.
Stir in the cheese and sausage.
Combine buttermilk and egg white together with a whisk.
Add the liquid ingredients to the dry ingredients until just moist.
Turn dough out onto a lightly floured surface; knead lightly 4-5 times with floured hands. Note: The dough will be sticky.
Pat dough into two 8-inch circles on prepared baking sheet (spray with cooking spray).
Cut dough into 8 wedges, cutting into but not all the way through the dough like a pie.
Bake at 400°F for 20 minutes or until lightly browned.
Cool.
Cut wedges all the way through and wrap individually.
Put in a ziplock bag and freeze.
To Reheat: take wedge out of wrapping and place in the microwave 30-50 seconds until warm.