Sausage and Cheese Crescent Squares
flower7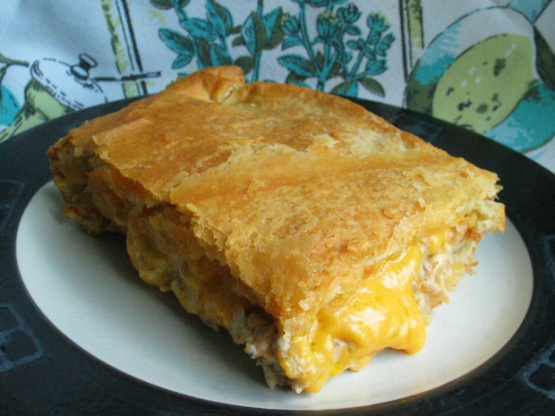 Nice appetizer that is also easy to make. I often use the cream cheese with chives instead of the plain cream cheese.

I made this for my lunch today (instead of an appetizer) and it was fabulous! As a "main dish" it made 8 servings. I used reduced fat crescents for the bottom crust and one of the newer seamless crescent dough sheets for the top layer. Used Italian sausage, red onion, Neufchatel cheese, and no sage. Oh, also reduced the cheddar to 6 oz (1 1/2 cups) which was plenty. Instead of removing the sausage to melt the cream cheese, I just added the cheese in with the (drained) sausage on low heat, stirring occasionally until it was combined. This is a wonderful easy recipe which will be made again and again!
~Made in loving memory of Annelies~
Heat oven to 375°F
Unroll 1 can of dough into 2 long rectangles and place in ungreased 13x9-inch (3-quart) glass baking dish, press over bottom and 1/2 inch up sides to form crust.
Brown sausage and onion in large frying pan over medium heat until thoroughly cooked, remove sausage from the frying pan and discard the fat.
Add cream cheese to same frying pan and cook over low heat until melted.
Add cooked sausage, stir to coat, add the chopped sage if using.
Spoon evenly over crust in baking dish and sprinkle with the cheese.
Unroll the second can of dough on work surface.
Press to form 13x9-inch rectangle, firmly press perforations to seal and carefully place over cheese.
Bake for 20 to 25 minutes or until golden brown.
Cool for 10 minutes then cut into squares.