Sausage and Cheese Breakfast Strudels
2Bleu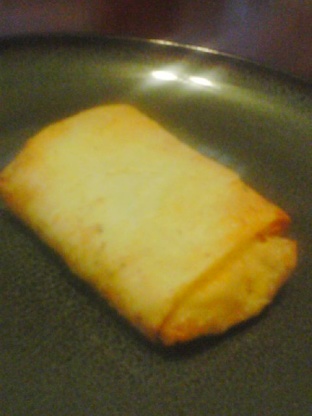 This is an elegant take on breakfast food. It can be made the night before and baked just before serving. Give this a try if you want something a little different than a breakfast casserole or strata. It is a very lovely meal to serve to brunch guests. Enjoy! **Don't let the long list of ingredients or instructions put you off. It is very simple to make.
Preheat oven to 375 (if baking right away).
Melt 2 T. butter in a saucepan and blend in flour.
Cook over medium heat until smooth and bubbly, about 1 minute.
Gradually add milk and cook until mixture boils and thickens, stirring constantly.
Boil one minute.
Add Swiss cheese and 2 T. parmesan, salt, cayenne and nutmeg.
Stir until cheeses are melted and set aside.
In medium skillet, brown sausage; drain.
Stir in eggs and thyme and cook over medium heat until eggs are just set.
Stir in cheese sauce and 1 T. parsley.
Cool completely.
Unroll phyllo and cover with plastic wrap or a damp cloth to keep moist.
Brush one sheet with melted butter and sprinkle with bread crumbs.
Fold in half lengthwise; brush with butter.
Place 1/2 cup filling on bottom of short side of phyllo, leaving a one inch edge on bottom and sides. Roll up.
Place seam side down on ungreased cookie sheet.
In a small bowl, combine topping ingredients.
Brush strudel with melted butter and sprinkle with topping.
Repeat until all five strudels are made.
Bake for 15 minutes or until crisp and light brown.
These can be prepared, covered and refrigerated a day ahead, then baked as directed.