Sausage and Broccoli Rabe With Polenta
dicentra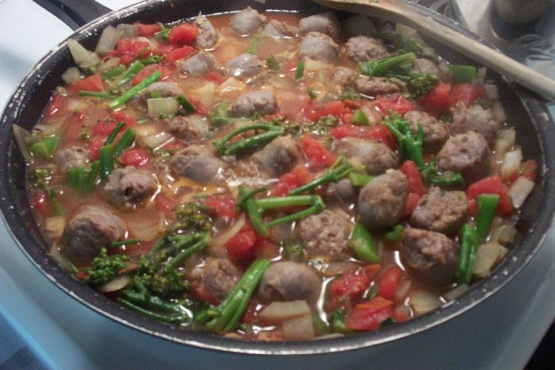 This is from one of my Food & Wine cookbooks. They recommend serving this with an Italian barbera because it has minimal tannins. Sausage and broccoli sauce freezes and reheats well. You can use either hot or mild Italian sausage. This is also good served over pasta.
In a large pot of boiling, salted water, cook the broccoli rabe until tender, about 2 minutes. Drain.
Rinse under cold water and drain again. Cut into 2 inch lengths.
In a large frying pan, heat 1 tablespoon of the oil over moderately high heat. Add the sausage and cook, turning, until browned, about 10 minutes.
Remove. When cool enough to handle, cut into slices.
Pour off all but 2 tablespoons of the fat from the pan. Reduce the heat to moderately low.
Add the onion and garlic and cook, stirring occasionally, until translucent, about 5 minutes. Add the wine; bring to a simmer.
Add the sausage, tomatoes, broth, thyme, and 1 ¼ teaspoons of the salt. Bring to a simmer.
Cook, uncovered for 15 minutes. Add the broccoli rabe, parsley, and pepper to the sauce. Bring to a simmer.
Meanwhile, in a medium saucepan, bring the water and the remaining 1 ¼ teaspoons salt to a boil. Add the cornmeal in a slow stream, whisking.
Whisk in the remaining 3 tablespoons of oil. Reduce the heat and simmer, stirring frequently with a wooden spoon, until very thick. Serve with the sauce.