Sausage and Apple Stuffing Casserole
Prep 40 mins
Cook 50 mins
You may use fresh sliced mushrooms that have been sauteed in butter in place of canned. If you are planning to serve more than 8 people then prepare two separate recipes and bake in two dishes --- I use all of a 400 gram French bread that amount works perfectly for this recipe --- add in chopped cooked carrots or peas to the stuffing mixture if desired, I have even added in cooked chopped bacon along with the sausage! this is a fantastic stuffing casserole!
Directions
Set oven to 350 degrees F.
Butter a 13 x 9-inch baking dish.
Heat 1/3 cup oil and 1/3 cup butter butter in a large skillet over medium heat.
Add in the sausage meat with the onion, garlic, celery, mushrooms, parsley, sage, bay leaf, poultry seasoning and chopped apples; saute over medium heat until the sausage meat is cooked and the veggies are tender (about 5 minutes).
Season with seasoned salt and pepper to taste.
Add the cubed bread to the sausage/veggies mixture; mix to combine and season with more seasoned salt and black pepper.
In a bowl mix together 1 cup of broth with 1 cup half and half cream (or milk) melted butter and eggs until well combined.
Add to the breadcrumb/veggie mixture; toss to combine (season with more salt and pepper if desired).
Transfer mixture to the buttered cassserole dish.
Drizzle top with remaining 1/2 cup chicken broth (if you prefer your stuffing on the dry side, then omit the 1/2 cup of broth on top).
Sprinkle with grated Parmesan cheese.
At this point you can cover and refrigerate up to 8 hours.
Bake uncovered for about 50 minutes or until cooked through and brown.
Delicious!
Most Helpful
Awesome! This is our new favorite stuffing recipe...this will be the 3rd year in a row. Yum! Thanks, Kittencal!
Hey Kitten, This is another WONDERFUL recipe! I visited your website and and used that copy. Just a wee bit varied. When I got home from Chrstmas with the family, I thought you might have posted this recipe here in "Zaar", and WaaLaa! I wanted the nutrition facts. This is the 4th year I've prepared this recipe both at Thanksgiving as well as Christmas. The kids won't let me in the house unless I bring this stuffing. My company put together (the first addition) holiday cookbook, and printed off this recipe from your website and submitted it as my family favorite! Not to "dis" the Zaar, but I go straight to your website FIRST for any recipe I need! OH! I do add (1 & 1qtr cup) raisins and about 2 tesp. of cinnamon. ...FAR OUT!!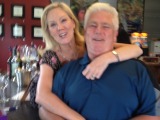 Very good casserole. Didn't think we would like the chunks of french bread but that turned out to be the best part. Used one whole loaf of bread, freshly baked from Pavilions. Was somewhat timid with regards to using salt and pepper. In the directions they kept saying to add more salt and pepper. Wish I had used more as it was a bit bland when it was all said and done!! Like other reviewers, I too added some craisins which I think was great. Heats up well in microwave too. Will make again. I've made this a few times now and I always add about 1 cup of chopped dried apricots. I use alot more fresh parsley and I usually use the "hot" Jimmy Dean sausage. I always have heavy cream so I use that instead of the 1/2 + 1/2. Xllnt!