Sausage and Apple Stuffed Acorn Squash
eabeler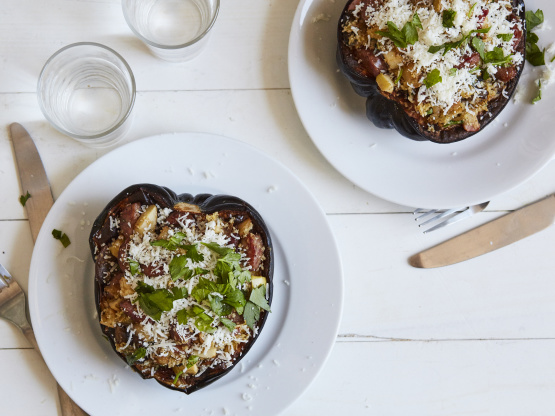 Sweet squash and spicy sausage...Mmmm! A great fall dish. I made this recipe up after searching for the perfect stuffed squash recipe-I think this is it!The stuffing would also be delicious in turkey or chicken. The squash can be cooked ahead of time-you may need to bake longer after stuffing.

Made this last night and both my husband and I thought that the flavors were absolutely wonderful. The sausage paired with the apple and herbs blended really well and made for a filling and tasty main dish. I did change it a bit from the main recipe to give a little bit more flavor, instead of parsley we used fresh rosemary and thyme from our garden. I also added chopped carrot to the vegetables which gave it nice texture and flavor. I also only cooked the acorn squash for 45 minutes the first time and a full 20 minutes the last time with the stuffing. The squash was perfectly done- not overcooked. The only thing that we might change is that it was not as moist as we would like (we like our stuffing more dense and moist than dry) but other than that, a wonderful recipe!
Combine the melted butter, garlic salt and 1/4 teaspoons sage; brush over cut sides and cavity of squash. Salt and pepper to taste.
Bake in a large roasting pan, cut side up, at 400 degrees F for 1 hour, until squash is tender yet still holds its shape.
Meanwhile make stuffing: Fry pork sausage until light brown. Remove pork to a colander to drain. Drain all but 2 tablespoons drippings from frypan. Add onion, celery and mushroom; saute 4 minutes. Stir in apple and saute 2 more minutes.
Combine the pork, vegetables, and breadcrumbs in a large bowl.
Taste and season with sage, salt or pepper if needed (depending on your sausage you may not want to add more seasoning).
Stir in the egg and parsley.
Fill the squash halves with stuffing-they should be slightly mounded.
Return to oven and bake, covered, for 20 more minutes, until the egg is set.
Garnish as desired with parsley and shredded romano cheese.