ReallyB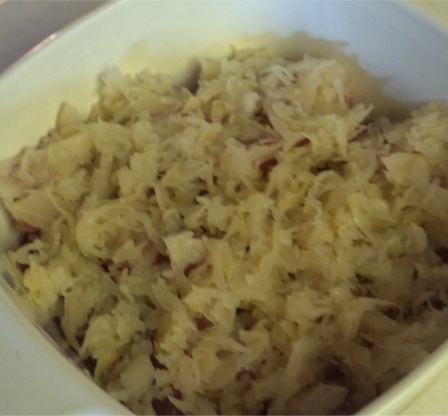 A tender flavor filled pork dish you can't screw up. Hope you enjoy it . My family loves it.

When I found this recipe I was looking for a way to make pork that was not dried out. I also have food restrictions requiring me to eat gluten free, egg free, and dairy free. When I served this to my husband, he thoroughly enjoyed it. It was moist and tasty. I have used pork loin, pork chops, and then pork strips to make this recipe. I have made a full recipe and then only made a half recipe on another occasion.
Dry rub pork with garlic,onion,salt and pepper seasoning.Sprinkle with rosemary (seasoning can be adjusted to taste). Make sure to do both sides.Spray baking dish with no stick spray.Place pork in dish put 1-2 cans of saurkraut over tthe top of chops (amount of kraut depends on amount of pork 2lbs or more 2 cans)(adjust amount of seosoning to portion size too) Cover and Cook at 350 for 45 mins ( add 15 mins for larger portions) Yum! Pork is juicey, tender, and full of flavor. You can eat the kraut or not. I happen to like it. Add " NO" the pork DOES NOT taste like saurkraut. Serve with your favorite sides.Enjoy!