gailanng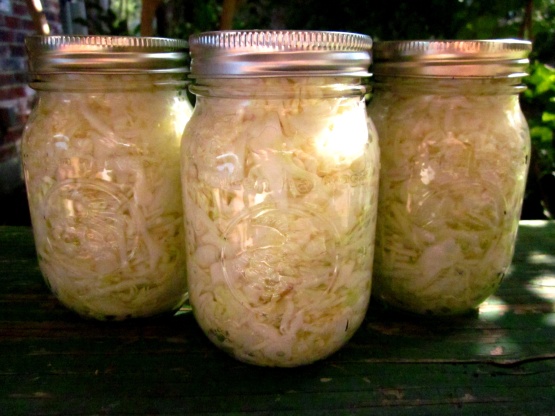 If you love homemade sauerkraut, but don't have your own crocks, this is a great recipe. It's fast and easy to put together and you can make any quantity you want. My father made sauerkraut every year with friends, since he doesn't have crocks, and another friend gave him this recipe to make life easier. Note: cooking time is time to cure.
1. Quarter, core, and shred cabbage (may be done with food processor).
2. Pack into sterilized quart jars by tamping down with a fork (I use tongs) and leave 1 inch headspace.
3. Add 2 tsp salt and 3 tsp cider vinegar to each jar.
4. Cover with boiling water to within 1/2 an inch of the rim, pouring slowly and working air bubbles out with a fork.
5. Cover with standard self-sealing lids (snap lids).
6. Apply bands firmly.
7. Turn upside down on a tea towel for a day. Check seals after 24 hours.
8. Store in a cool, dark place and let cure for 6 weeks.
9. Note: 2 heads cabbage will make about 6 1/2 quarts.