flower7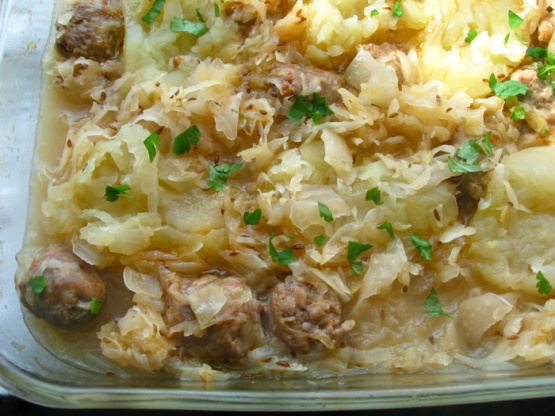 Another one of my wife's recipe that I found in her box.

Fabulous! I used refrigerated bagged sauerkraut (32 oz) and 4 cheese Italian sausages (18 oz) because they were what I could get. Also used granny smith apples. I found this recipe also on Taste of Home's website and they said to drain the sauerkraut. I followed your instruction to not drain it but I did leave out the water. Next time I might drain the kraut and add the water as the liquid was pretty "briny". Otherwise I loved this! Served with recipe #27898. Thanks for sharing! :)
Slice sausage into one inch pieces
Chop the onion into 1/2 inch.pieces Cook sausage and onion until done drain. When the sausage and onion are cooking. Peel and core the apples slice into quarters
stir in the apples, Sauerkraut, (do not drain the sauerkraut.),water, brown sugar and seeds
transfer to a 2 1/2 quart baking dish cover and bake for 1 hour at 350°F.