Sauerkraut Bierocks Casserole
Parsley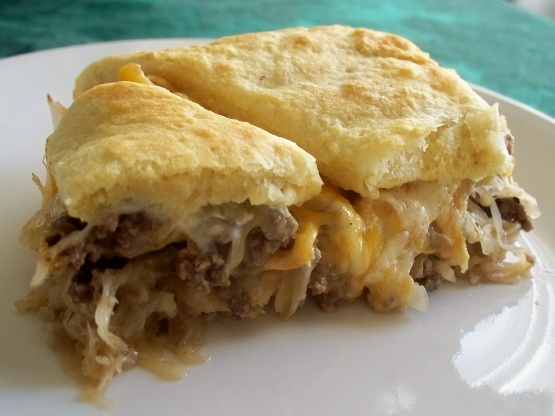 I grew up on sauerkraut bierocks but, unfortunately, never learned how to make them from my grandma. I found this recipe on another site and have added some things to make this taste just like the ones she made. (Grandma didn't put cheese in her bierocks but it's a great addition here!)

This was oh so easy to put together, but for us the Worcestershire sauce was way too strong. I'll probably use something else to replace it next time, but not sure what. Maybe try some soy sauce. I was also surprised that the bottom crescent roll was crisp. I did sprinkle both with garlic powder as suggested as I could not find the butter and garlic rolls. I used fresh cabbage in place of the sauerkraut for personal preference. Thanks for a nice quick meal for the Holiday season when everyone is so busy. Made for PRMR
Preheat oven to 350°.
Brown onion, garlic and ground beef in a large skillet over medium-high heat for about 4 minutes.
Add red pepper flakes and continue cooking until the ground beef is fully cooked. (If using fresh cabbage, add here and cook until soft.)
Drain extra fat out of the skillet then stir in drained sauerkraut and Worcestershire. Heat through and set aside.
Press 1 package of crescent roll dough into the bottom of a lightly greased 9x13-inch baking dish.
Spread beef mixture on top and cover with cheese.
Lay second package of crescent roll dough over the top of the beef and cheese mixture.
Bake for 25-30 minutes or until golden brown.