Sauerkraut and Sausage in the Crock Pot
Parsley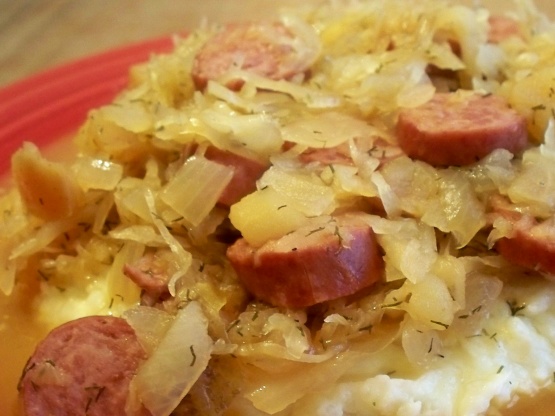 The faculty where DH teaches has frequent potlucks. Lois often brings this tasty dish and it is always well received. It is also an easy work/school week supper that my family enjoys.
In a skillet, melt butter, saute onions and apples until onions are translucent.
Meanwhile rinse and drain sauerkraut; place in a large crock pot.
Stir ketchup, dill and onion-apple mixture into sauerkraut.
Slice Kielbasa into 2-inch rounds.
Stir Kielbasa into sauerkraut.
Cook on low setting for 7-9 hours. (Cooking time may vary based on the brand and age of your crock pot. I still use an old one that takes 7-9 hours for cooking this recipe.).