Saucy Tortellini and Meatball Soup #A1
Souxie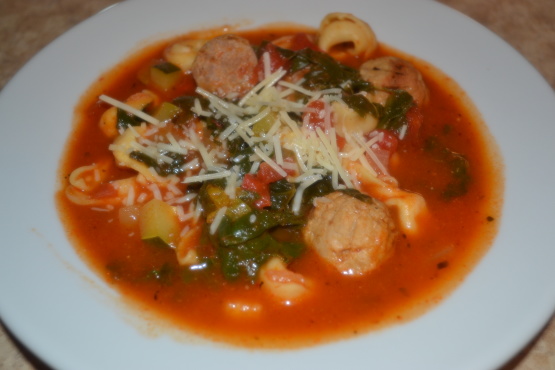 A.1. Original Sauce Recipe Contest Entry. This delicious soup is thick with vegetables, pasta and meat. It makes a perfect meal for those chilly days when served with a crusty bread for dipping and salad.
Very awesome and different than my normal meals. Cooking was super quick as I had used leftover meatballs from our sandwiches the other night . I also added slices of boudan sausage since that's what I had and turned out awesome. I also served garlic bread with it. Was very filling and I had tons of leftovers because I almost doubled the totellinis all and all a very good dish !!
Heat oven to 350 degrees F. Line a cookie sheet with no-stick aluminum foil or spray with no-stick cooking spray. Set aside.
In a large bowl, combine the ground turkey, breadcrumbs, egg, granulated garlic and 2 tablespoons of the Parmesan cheese. Mix well. Form into 1 1/2" meatballs and place on prepared cookie sheet. Bake for 20-25 minutes or until starting to brown. remove from oven and set aside.
Meanwhile, place a 4-5 quart Dutch oven over medium high heat. Add the olive oil and sausage. Cook, stirring often, for 4-5 minutes or until sausage is starting to brown. Add the onion, green pepper, zucchini and garlic. Mix well and cook for 6-8 minutes or until vegetables are crisp/tender.
Add the chicken broth and A-1 Sauce and bring to a simmer. Add the tortellini and cook for 5-6 minutes.
Add the spinach, tomatoes and the cooked meatballs. Mix well and cook another 5-6 minutes or until tortellini is cooked through.
Top each serving with remaining Parmesan cheese.