Chemaine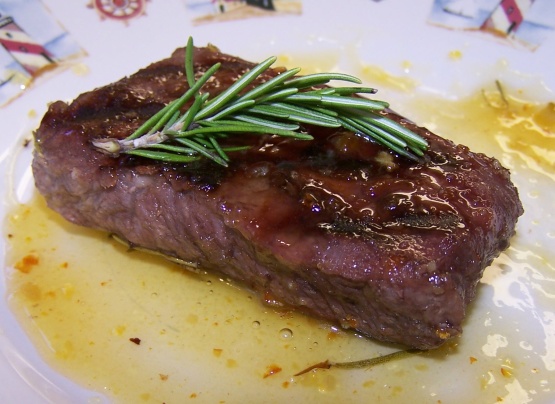 Take one bite of tender, juicy steak and you'll agree there's nothing like this buttery blend of orange marmalade and rosemary to bring out the best in beef. Our family loved this!! My picky youngest, wanted more!
In a small saucepan, combine marmalade, butter and rosemary. Cook and stir over low heat until butter is melted and mixture is heated through. Set aside.
Sprinkle both sides of each steak with salt and ground black pepper. Place steaks on the rack of an uncovered grill (or George Forman Grill at 350)directly over medium coals. Grill until desired doneness, turning once halfway through grilling and brushing with the marmalade mixture during the last 2 minutes of grilling. Allow 11 to 15 minutes for medium-rare (145) or 14 to 18 minutes for medium doneness (160).
Transfer steaks to a serving platter. Spoon any remaining marmalde mixture over steaks.