3 Reviews
What a great idea for salmon. It paired beautifully with fennel and the thinly sliced potatoes! I used a mandoline to slice the potaotes - fast and easy. I also used half and half instead of creme fraiche and thought it worked beautifully! Delicious recipe. Thank you for creating it!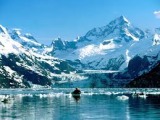 I agree with Kathy228...for such simple ingredients this dish is really very nice. Simple and quick to put together as well. No fuss - I like that! One dish, in the oven - not much to clean up either. My family really gobbled it up. I didn't have any fennel on hand, so skipped that. I also went pretty easy on the butter and had to use milk - so goes to show how luscious it might have been. I will be making this often as well. By the way, I cooked on 400 for about an hour. Thanks FT!

Delicious! For hardly any spices in the ingredient list, this has well-blended flavors. I made half the recipe and it worked perfectly. I used unpeeled red potatoes; salmon fillets instead of a whole fish; half-n-half for the cream; and an oval baking dish. This was very easy to put together because none of the ingredients require par-cooking. Just slice and layer, how easy is that? I will make this often because it's so easy and delicious. Thanks FT- wonderful!

Saucy Salmon, Fennel and Potato Gratin Dauphinoise