loof751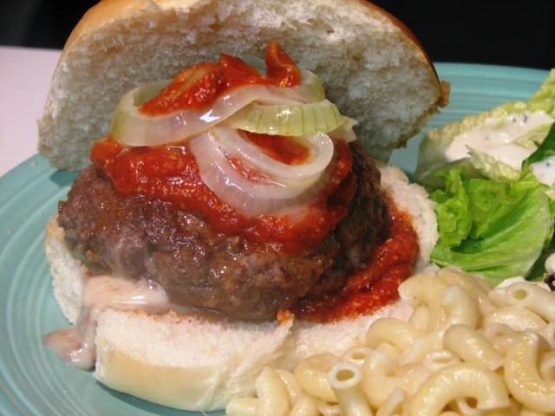 Best of two worlds, American and Italian.

These burgers were great! I took another reviewer's suggestion and used sliced mozzarella to fill the burgers and that made it really easy. I pan-fried them and had very little leakage. These flavorful burgers stuffed with cheese really hit the spot - thanks for sharing this recipe!
In a bowl, combine beef and garlic salt.
Shape into eight patties.
Top 4 of the patties with cheese.
Cover with remaining patties.
Press edges to seal.
Refrigerate.
In a saucepan, combine the pizza sauce, mushrooms and oregano.
Cover and simmer for 10 minutes, stirring occasionally.
In a skillet, saute onion in butter until tender. Set aside.
Pan fry, or grill burgers until no longer pink.
Spread bottoms of buns with a little sauce.
Top with burgers, onion and remaining sauce.
Replace tops.