Saucy Mocha Pots of Cream (Microwave Easy-Fix)
Calee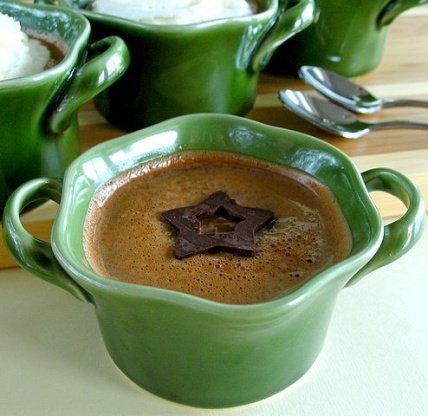 W/ea pg I have turned, I have fallen more in love w/the *Microwave* cookbook of the Australian Womens Weekly cookbook series & its easy-fix ideas. Here's another I hope you will try & enjoy. :-)

This did not work for me, but that's probably my fault as I modified the recipe quite a bit - I really wanted the Tia Maria to be the star in this recipe, so subbed about half the cream for the liqueur and the other half with skim milk. Also reduced the instant coffee. Whipped everything together in my Magic Bullet. I had to increase cooking time significantly - cooked 5 minutes at power 4, then another 10 at power 3 (I have a 1000 watt microwave) and ended up with a mousse floating over the Tia Maria. Tasted nice though. I STRONGLY recommend using a large cup and watching carefully while cooking because it will rise a lot (think hot milk), one of mine overflowed.
Using a wide-mouth jar & your stick-blender, blend cocoa & coffee powders w/Tia Maria. Then beat in sugar, eggs & cream.
Pour mixture evenly into 4 ramekins, cook on MED-LOW for 5-8 min or till just set (the mixture should still be shaky) & refrigerate till cold b4 serving.