Saucy Ham and Potato Bake
vrvrvr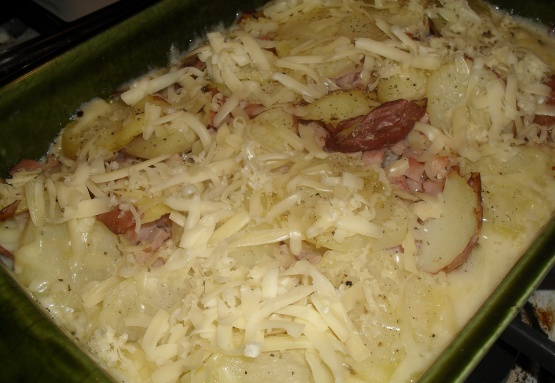 Leftover ham. This is better than your average ham and potato casserole

Top Review by vrvrvr
This was certainly yummy and a crowd pleaser. I found the directions to be a little bit sketchy, i.e., it helps to know what size saucepan to use for the cheese sauce (large, since you'll be tossing the potatoes into it), and how many potatoes to use (I used 2 lbs., red skin and russet mixed), and how much ham to use (I used 2 c.), and whether to bake covered or uncovered. (I left it uncovered). I was not sure why there were potatoes reserved to go on top; they looked like they'd dry out so I drizzled some olive oil on them before baking. Next time I would just mix all the potatoes in the cheese sauce as well as the ham. These minor issues aside, we enjoyed this dish very much. Thanks for posting.
Saute onion in butter. Blend in flour and seasonings.
Gradually add milk, stirring constantly until thickened.
Add 1 1/2 cups cheese. Stir until melted.
Toss potatoes in cheese sauce.
Pour into 2 quart casserole, reserving 1 cup potato slices.
Arrange ham and remaining potato slices on top of casserole.
Bake at 350F for 30 minutes.
Top with remaining cheese and serve.