Bobbiann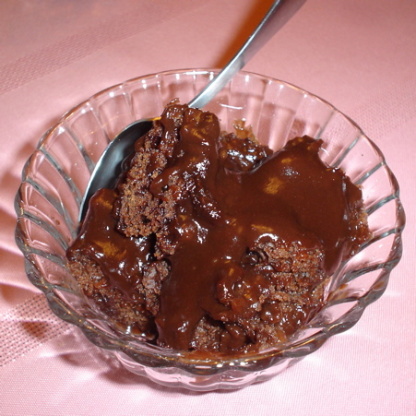 This is cake and sauce baked in one dish. It is quick and easy.

A lovely pudding layer on the bottom of the cake! My kids liked that little suprise. I used maple syrup (well the fake-o kind) and will probably use the honey next time, we just weren't in love with the maple flavor. BUT, the family ate all of it in one evening, so it was pretty good! Tried this for Pick A Chef '08. Thanks for sharing!
In a bowl, stir together flour, cocoa or carob, baking powder and salt. Add milk, oil, honey and nuts (if using).
Mix together with a spoon and scrape into an 8-inch pan.
In the same bowl, mix sugar or maple syrup and cocoa together. Add water and stir to dissolve.
Pour over batter but do not stir.
Bake, uncovered, at 350ºF for about 40 minutes until batter has risen above sauce and is firm to the touch.