Saucy Beef Tips With Egg Noodles (Inspired by Dream Dinners)
sbera007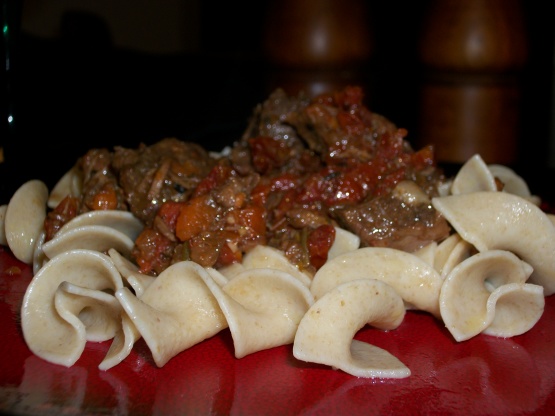 This hearty all-in-one beef dish is packed with delicious strips of sirloin, onions, diced fresh carrots, diced fresh celery and a savory sauce that blends the flavors of garlic, sun dried tomatoes, red wine, rosemary and thyme. Slow cooked and served over warm egg noodles. This recipe is great for doubling or tripling by keeping the raw meat and sauce together in the freezer (in bags) for a quick hearty meal.

Yummy...the whole family loved it. I didn't use quite as much sun dried tomatoes...I doubled the recipe and used 2 packages of sundried tomatoes which was just over 1 cup but still yummy none the less...will repeat especially since its getting cold out. Also served with French bread to help soak up the yummy sauce.
Put all ingredients (except egg noodles) in crock pot for 4 hours on high or 8 hours on low.