Saucy Apple and Blackberry Pie
Derf2440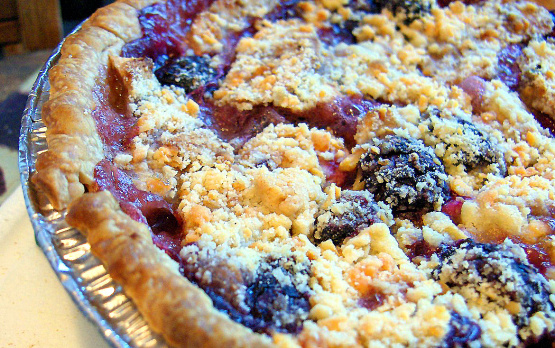 Another favourite summer recipe when blackberries are ripe. Easy, no fail dessert. My hubby's favourite.

Top Review by AmieH
This was really good- I used a spelt crust, substituted agave syrup for the sugar and used goat cheddar in the crumble and this was a big hit at our house! I would suggest making sure that the blackberries are as ripe as can be, as we used some that were semi-ripe and they did make for a fairly bitter-sweet pie- but still delicious! Thank you for sharing this recipe:)
In a small saucepan combine sugar, flour, salt, cinnamon, allspice, and water.
Cook over medium heat, stirring constantly, until boiling and thickened.
Remove from heat and stir in apple slices and blackberries.
Combine topping ingredients in a small bowl until crumbly.
Sprinkle 1 tbsp.
flour over bottom of pie shell.
Pour apple and blackberry filling into shell.
Sprinkle topping over filling.
Bake in preheated oven at 400F for about 50 minutes.