Mercy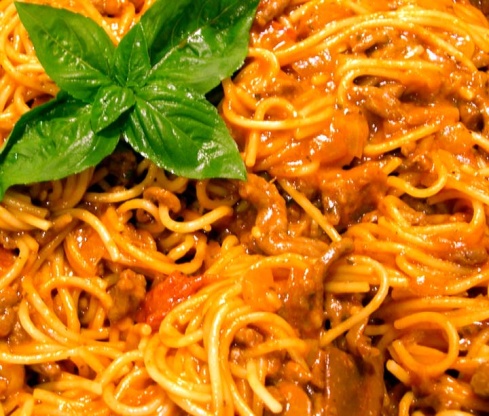 So simple! This one-pot meal was actually created by my big brother. Chili powder or Cajun spice blend may be substituted for the oregano. I usually add prepared spaghetti sauce in place of the tomato sauce for more flavor. Any pasta may be used in place of spaghetti. The Cheddar cheese adds a really rich texture and flavor to the final dish.
Decent flavor, but NOT worth avoiding using an extra pot to cook the pasta this way. The result is a pasty, sticky flavor that detracts greatly from the joy of eating a pretty darn good sauce. The pasta pot is mostly water anyway and easy to clean. Don't ruin your spaghetti this way! I mostly followed this recipe, except I used parmesan instead of cheddar at the end and added half a hot pepper in the beginning for a bit of kick.
Cook the beef, onion and garlic in a large saucepan until the meat is browned.
Stir in the seasonings, sauce and water.
Bring to a boil, add the spaghetti, cover, and simmer 10 minutes or until the pasta is done, stirring occasionally to keep the pasta from clumping.
Once the spaghetti is done, stir in the cheese until it is melted and serve immediately.