Sauce for Duck and Ham : Black Cherry, Port & Redcurrant Jel
Elkaybee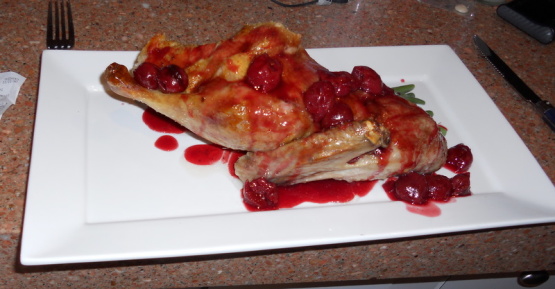 This is a delicious and very easy sauce to make. It's also great with ham and all game -- and vanilla ice cream! For the redcurrant jelly I use a bottle (155g) of Staffords Redcurrant Jelly (a British product). It is usually available on the shelf where you find mint jelly and cranberry sauces. It's worth keeping a bottle of good port in your kitchen cupboard, as it's used in so many ways. *NOTE: if you don't have chicken stock powder, use the same amount of chicken broth. PLEASE NOTE: the sweetness of black cherries in syrup can vary a lot from one brand to another, so you'll have to adjust the taste with the lemon juice to prevent the sauce being too sweet.

This sauce was not difficult to make but added a professional taste & presentation to this dish. I just loved this & found it was a step up from the usual duck with orange sauce. I had a lot of leftover sauce & have used it on several cold meat dishes & tastes just a delicious. I feel privileged to have found this recipe... Many thanks Zurie
(Some cans of cherries have a lighter, less sweet syrup, some have a thicker, sweeter syrup than others, so please taste sauce as instructions below indicate, and adjust).
Drain the cherries in a sieve over a bowl, and keep at hand.
In a pot, measure off the water and stock powder OR use 1/4 cup chicken broth.
Add all the ingredients, from the 1/4 cup water down to the pinch of ground cloves -- BUT do NOT add the cornflour and water.
Use 2 - 3 tablespoons lemon juice to start, but keep extra juice in case you need to add more to the sauce when you taste it.
Stir the sauce over medium heat until the redcurrant jelly dissolves, then boil quite vigorously until about 1 cup liquid is left. As you start out with about 1 3/4 cup, this does not take long.
If in doubt about the amount as it boils down, pull off heat, cool slightly, and pour into a Pyrex or heat-resistant measuring cup. I simply tilt the pot, and take a guess.
Pour sauce back into pot.
Mix the cornflour with the water, add to the sauce, and bring to a simmer while stirring. Let the sauce thicken, and remove from heat. Do not boil longer than a minute, as the cornflour might split.
Taste for seasoning: you will almost certainly want to add more lemon juice. I did not add salt, but a pinch will probably improve the taste.
Add about 3/4 cup of the cherries in the sieve.
Number of servings will depend a lot on how the sauce is used on the meats.