Saturday Morning Panny Cakes
Debber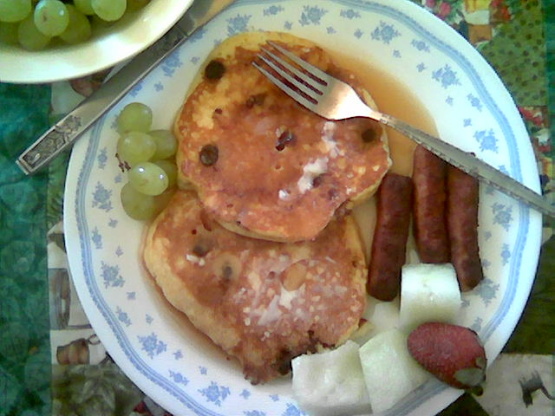 Time saving tip: Gather a hand-ful of quart-size zipper bags. Haul out the dry ingredients and measure & sift into bags. Label bag "Pancake Mix" and store in a cool, dark cabinet. At meal-time, combine one bag with wet ingredients. Make up a bunch of bags at once, breakfast will come together that much quicker! The original for this recipe came in the box with a blender we received as a wedding present back in 1978. I've tweaked it into solid breakfast perfection!

These were really nice, I enjoyed the addition of the whole wheat flour. We had ours with maple syrup and they were also really nice cold spread with a little butter. I like the idea of mixing the dry ingredients ahead of time to speed things up in the morning...a great idea when on holidays. Thanks for sharing.
Preheat electric griddle to just under 350 degrees.
In a large mixing bowl, combine all ingredients in order given.
Lightly grease the hot pan with butter or Crisco.
Dip batter out with a metal 1/4-cup measure and pour into pan.
Sprinkle with about 9 chocolate chips.
Flip cakes when tops get slightly dry and bubbles pop (about 2 minutes). Cook for 1-2 more minutes.
Remove to serving platter and continue with next batch.
Serve with butter, maple or fruit syrup, a glass of milk or fruit juice and a side of bacon or sausage links!
Optional toppings: Try peanut butter instead of butter. Yogurt is also another good topping.