ImPat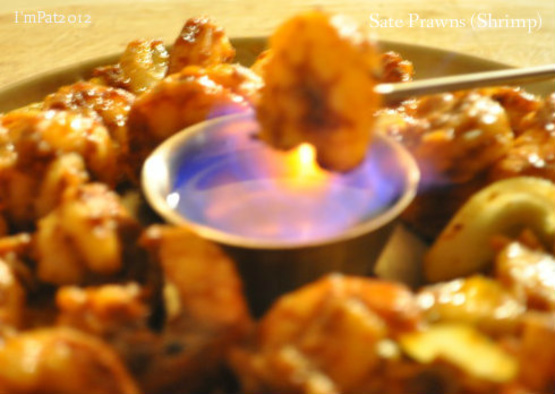 This is from the Australian Women's Weekly Chinese cookbook circa early 70's and a recipe the DH and I love. It does not produce a lot of sauce but is lovely served over rice or we like to serve in the traditional manner as explained in the recipe directions.. Please note most of the preparation time is taken up in peeling and preparing prawns, the larger your prawns the shorter the prep time but we like to use small river prawns so it usually takes me about an hour to peel and prep but when I use large king prawns it usually only takes 30 to 40 minutes.

This was excellent! I used my own home made satay sauce (peanut), and we had this with oven baked sweet potatoes. So good - I love satay but never made it with shrimp before. This will be a keeper! Thanks for sharing, Pat!
;ade for Make My Recipe Reunion / AUS/NZ Forum
Shell prawns - using point of small knife, cut each prawn down back and remove back vein and then make deep slit down back of prawn, taking care not to cut right through.
Combine marinade ingredients in bowl, add the prawns, mix well and stand for 2 hours.
Peel onion, cut in half then cut each half in wedges.
Heat oil in large pan or wok, add onions, saute until transparent, approximately 2 minutes.
Add prawns and marinade mix to wok, saute until prawns have turned light pink and prawns are cooked, approximately 3 minutes, add water and mix well.
Suggested you serve by arranging lettuce leaves around edge of plate and spoon prawns over or to serve in the traditional style, place small metal bowl in centre of prawns and fill with warmed brandy and set alight and pick up a prawn with chopsticks (we use fondue forks) and hold over brandy flame to heat and flavour prawns as for barbecue prawns.