Sassy & Spicy Three Bean Dip
Rita1652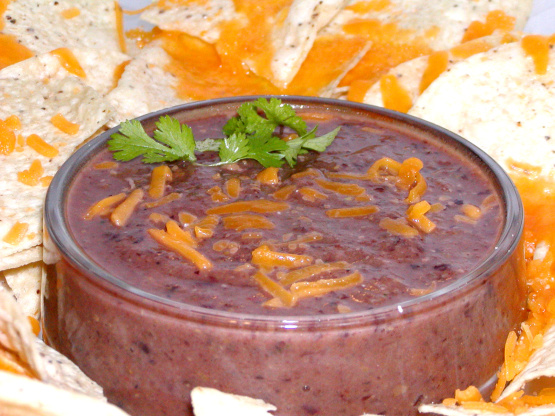 This is my first recipe post! I came up with it when I was trying to duplicate my favorite spicy bean dip that is no longer sold at my grocery store. Everyone LOVES this dip and I am asked to make all the time. The only complaint is that there is never enough! It is pretty easy to make as you just throw all the ingredients into a food processor. It can be used as a filling for burritos, tacos or tostadas as well. I sometimes add half a can (15 oz)of Vegitarian Medium Chili to the food processor as well (for the texture of the TVP). Adjust the heat to your liking. Hope you enjoy! Adios!

Good recipe! I was missing the pinto beans, the peppers, the cilantro AND the jalapenos and it still turned out great! Thanks!
Place all ingredients except Jalapenos into food processor and blend until smooth.
Fold in Diced Jalapenos.
Taste and adjust hot sauces to pleasant temperature.
Garnish with cheese and cilantro leaves.
Serve with chips or put inside a burrito or taco or on a tostada.