Sassy Avocado Cheesecake #RSC
zarlene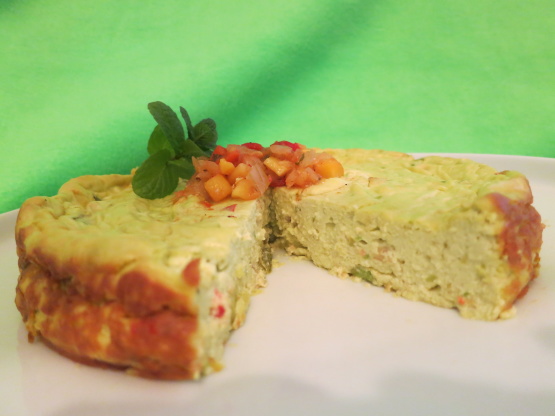 "Ready, Set, Cook! Hidden Valley Contest Entry" This savory little cheesecake will be a hit at your next party. The zesty jalapeño and rich cream cheese are a perfect blend of flavors, while the avocado and zesty Pepper Jack completes the already complex taste. I used a pineapple-habanero salsa for added heat and a little sweetness but any salsa will work. The jalapeño pepper can be adjusted to taste or reduced to make the recipe more kid friendly.
Preheat oven to 350 degrees. Spray 8 inch springform pan with cooking spray.
In a large skillet, over medium heat, sauté garlic, shallots and red pepper in olive oil until tender.
In a large bowl combine ranch dressing, cream cheese, yogurt and avocado. Mix until combined. Add eggs, flour and lemon juice. Beat just until eggs are incorporated. Fold in cheese, jalapeño and chives. Pour into prepared pan.
Bake at 350 degrees for 35 minutes or until edges are slightly browned and starting to pull away from the sides of pan. Cool 10 minutes and carefully remove from pan. Serve with salsa and crackers.