Saskatchewan Chocolate Spice Bread
Deantini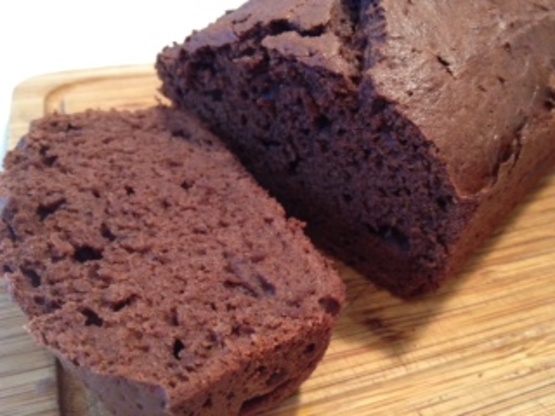 I found this in a magazine promoting our Saskatchewan grains and had to try it. This bakes up with a wonderful texture and who doesn't love chocolate and spice? The magazine suggested spreading it with ginger marmalade which sounds wonderful. Slices of this bread will carry well in a packed lunch.

The spices come through very nicely, especially the ginger. It is a perfect loaf to make heading into Fall; since the flavours and aroma sort of are 'fall-ish'. I used low fat plain yogurt and sour cream. UPDATE - I have made this bread many times since my first review. Today I tried a reduced fat version containng 2 tbsp oil, 2/3 cup apple sauce (instead of butter) and 2/3 cup low fat yogurt (instead of sour cream). This shaved 500 cal off the recipe; the bread never last longer than 2 days in this house so I don't think it will get a chance to dry out.
Lightly grease loaf pan with a little unsalted butter, then line the bottom of the pan with parchment or wax paper cut to fit; butter the paper as well.
Position a rack in the middle level of the oven; preheat to 350°F.
Combine the flour, cocoa, baking powder, salt and spices in a bowl or on a large piece of parchment or wax paper.
Whisk the eggs in a large bowl to break them up, then whisk in both sugars.
Whisk for a minute, or until the mixture lightens, then whisk in the 5 tablespoons of butter and the sour cream.
Add the flour mixture to the egg mixture all at once; gently whisk until smooth.
Scrape the batter into the prepared pan and smooth out the top, pushing the batter evenly into the corners.
Bake on the middle oven rack for 35 to 40 minutes, until the bread has risen and a toothpick or a narrow-bladed knife inserted into the center of the bread emerges clean.
Transfer the pan to a wire rack to cool for 5 minutes, then unmold the bread and let it cool completely on the rack. When ready to serve, transfer to a cutting board.