Sardinian Lobster Spaghetti
twissis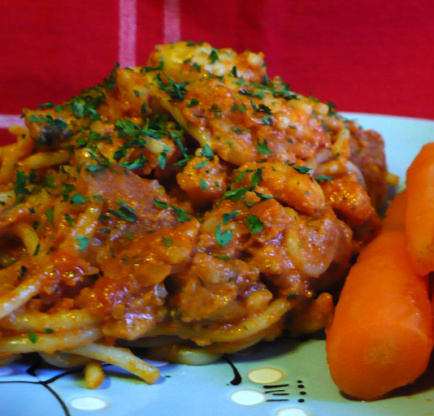 This recipe is very similar to that served at L'Oasi restaurant in the Costa Smeralda region of Sardinia, Italy. The simple sauce can be also made with shrimp, prawns or crab instead of the lobster, or even on it's own!

This recipe is outstanding & went straight into our BEST OF 2012 collection. Unlike red meats (& even chicken), both lobster & shrimp are readily available at moderate prices here in Iceland & we had just bought lobster from our nephew whose soccer team was selling it as a fund-raiser. I used equal amts of lobster & baby shrimp - doubled the garlic - & used lemon pepper plus Old Bay Seas for a mild salt component because I favor its use w/shellfish. This dish combines an easy-fix w/excellent flavor & makes you feel you're dining on the finest Italy (Sardinia) has to offer. Thx for posting this sure to be repeated & shared recipe w/us. :-) ... Edited to Add: Pic will post tomorrow & forgot to mention how much we liked the use of brandy in this recipe.
Heat the butter in a saucepan, and once sizzling add the onion and garlic.
Cook for about three minutes and then add the brandy. Cook until the brandy has almost completely evaporated.
Add the tomatoes, salt, pepper, red pepper flakes if using, and half the parsley. Cook for about 20 minutes or until thickened.
Stir in just enough of the heavy cream to turn the sauce a dark coral pink color. Stir in the lobster meat, and keep warm.
Cook the spaghetti until it is al dente. Drain. Toss the pasta with the lobster sauce, and serve garnished with a sprinkling of the remaining chopped parsley.