Sardine Pate As I Like It!
nitko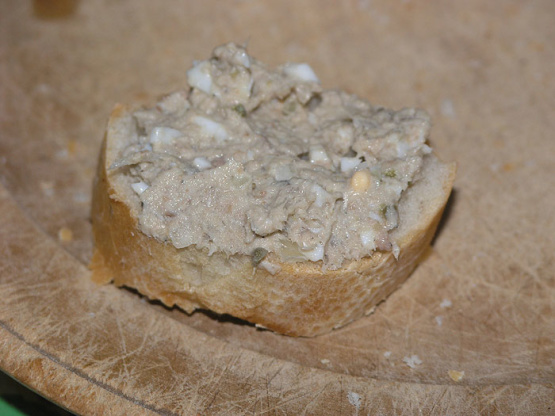 This is very simple meal I used to eat during my student time. A loaf of bread, bottle of wine and few knives and we were happy and fed.

Really liked it, but I like sardines plain in all the sauces they come in. Used raw onion, half of one, and some celery for crunch. Pinot Griggio, and, white pepper, along with some fish sauce and for crackers, cracked pepper water crackers. Zesty and lively. Very nice.
Open the sardine can and remove all oil (into the sink).
Put sardines out and squash them with fork. Squash them well.
Cook egg hard. Cut whole egg into small pieces and put it into sardines.
Finely mince onion and garlic and put it into sardines.
Finely mince capers and add into sardines.
Add whole package of mayonnaise and lemon juice into sardines. Mix well. Cool it. Eat it.