Sarcie's Chicken Mexicali
Brenda.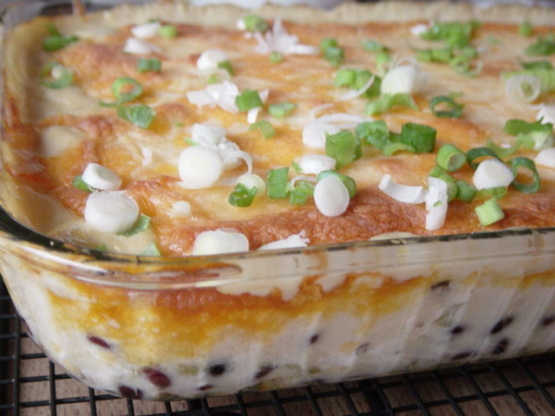 This is my sister's favorite dish that my mom makes. It's a wonderful mexican-inspired casserole of layers of corn tortillas, cheese, and a creamy chicken, black bean, and green chili mixture. A great use for leftover chicken.*Edited per reviewers suggestions that it was too runny. Should set up fine now. Saucy but not runny.*

Top Review by Bobbie
We loved this! Since there are just the two of us, I divided it up and made 3 small casserole dishes. I have two in the freezer to have later -- perfect. I loved the addition of the green chilies and the black beans. I have made a similar dish in the past, but it didn't call for those two ingredients. I also added a couple tablespoons of milk to the soup mixture. I think I had a little more chicken than the recipe called for and didn't want it to turn out too dry. It was just right. I can see why this is your sisters favorite dish! Thanks for sharing.
Layer 1

12

corn tortillas, cut into fourths

Layer 2

4

cups cooked chicken, cut into chunks

1

(10 1/2 ounce) can cream of mushroom soup

1

(10 1/2 ounce) can cream of chicken soup

1

cup sour cream
1⁄8 teaspoon onion salt
1⁄8 teaspoon garlic salt

1

(4 ounce) can green chilies

1

(3 7/8 ounce) cansliced olives, drained

1

(14 ounce) can black beans, drained and rinsed

Layer 3

1⁄2 lb monterey jack cheese, grated
1⁄2 lb cheddar cheese, grated
Combine all the layer 2 ingredients in a large bowl.
Put layer 1(the tortillas) in the bottom of a 9x13 baking dish.
Spread layer 2(chicken mixture) over the tortilla's.
Spread layer 3(cheeses) over the chicken mixture.
Bake at 375* for 45 mins until hot and bubbly. Let stand 15 minute before serving.